Design Integration
Lortz Manufacturing is a major designer and fabricator of ducting and piping, and metal and fabric expansion joints. Having state of the art machinery, welding technology, fabrication knowledge and quality system for the manufacture of large ducting and piping sections; combined with the capability to design and manufacture metal and fabric expansion joints, enables Lortz to offer DESIGNXXINTEGRATION for optimum system design and the lowest installed cost.
DESIGNXXINTEGRATION advantages: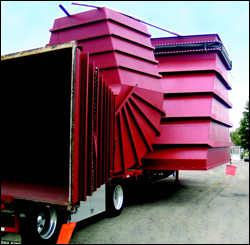 Minimize the number of flanged expansion joint connections.
Elimination of labor to install flanged expansion joint assemblies at the job site.
Elimination of flanged connection gasketing and potential leaks.
Elimination of the risk of installing sensitive assemblies at the job site.
Significant cost savings of both manufacturing and installation labor.
Delivery of the largest "shippable" duct and piping sections to the job site to eliminate as many field connections as possible, further reducing installation labor.
Combining Lortz DESIGNXXINTEGRATION with Lortz DESIGNXXELLENCE also provides customers with the advantage of up-front 3D modeling of the ducting and piping sections so that problems can be envisioned and dealt with in the design stage. Additionally, finished drawings of the approved model insures dimensional accuracy without tolerance "stack up" which further reduces the cost of manufacture and provides for excellent "fit-up" of assemblies at the job site.
Lortz has considerable experience in designing and fabrication of integrated ducting and piping with metal and fabric expansion joints. Lortz is also very knowledgeable with transportation capabilities for wide and heavy loads and can make firm commitments "up-front" for the largest shippable size and heaviest weight.
Lortz ducting and piping design capabilities include thermal movement analysis, structural support analysis, guiding, anchoring and supporting analysis, external load analysis (wind & seismic) and when required finite element analysis.
Lortz WELDXXELLENCE program combined with our QUALITYXXELLENCE assures customers of the highest quality welded components and assemblies. Lortz welding is led by the Welding Team Leader, a Certified Welding Engineer with 30 years of welding experience with titanium, nickel alloy, stainless steel, chrome-moly alloys and carbon steels. Lortz Welding Associates are qualified to ASME Section IX and AWS D.1.1 with an average experience in the Lortz welding environment of 18 years.